Internet, Phone and Tracker. Radio and TV. GPS.
Just a few notes on communications and navigation..
Tracker
The tracker is provided by Dave and the satellite time is for testing. We are eternally grateful. It uses reverse gps so is accurate to within a km. Placing the track on googlemaps is automated, with occasional tweaking.
GPS and Maps
Igo8 4.3 inch screen purchased from eBay (Hong Kong). The important bit was the maps. Checked with seller on what was meant by "world maps". Some have more than others.
Second hand Garmin purchased in Morocco. With open street map of Morocco and Garmin Europe maps. Strangely we prefer the Igo.
We also have Oziexplorer (and bought a USB GPS Mouse while in UK). An old copy of Garmin nRoute (2.7.6) from before Garmin software licencing got complicated with Franson GPSGate (2.6) which allows nRoute to read the gps mouse. The gps mouse would have been useful in Mongolia and was magic in Morocco. We bought Reisemap Oziexplorer version digital map of Morocco and also had Olaf's map (free for Garmin) which was usable in nRoute but for some reason was never visible in our Garmin gps.
The Reisemap digital maps have been up to a few km out and have been very inaccurate at times. Adequate comes to mind.
Navigation in Kazakhstan and Kyrgizstan was initially difficult due to the scale of the Reise Maps and limited Garmin gps coverage (main roads only and up to 6km out). Used Franson GPSGate with the gps dongle and own web page (a simple page written on the road) with googlemaps. There's probably an app for tablets with built in gps. This would have helped enormously in Mongolia. The refresh frequency (seconds) can be set. Two minutes was often sufficient. Very useful for navigating through large towns as well as out of the way places. Thepage could be kept open zoomed out when little or no internet. The same page was used to capture coordinates for some tracks which were only visible on the satellite view. Also for checking coordinates that were provided by other people's web pages and other sources which were often very wrong.
In the UK we got tangled up with Ordnance Survey licensing and Memory Map. The free from OS 1:100,000 maps have countours and footpaths removed. We had some full digital topographic maps and also some borrowed paper maps.
We purchased a book of road maps for Europe. We also had paper maps for most countries. Its useful to see the overview which the gps doesn't provide very well. The computer software seems to zoom well. Igo8 is better for at least the general direction than the Garmin.
Its difficult with both Igo and Garmin to reliably find the by-passes around towns. Invariably they take us through the middle. France is wonderful with those "toutes directions" and "toutes autres directions" road signs.
Here's a complicated diagram of the maps and how we used them.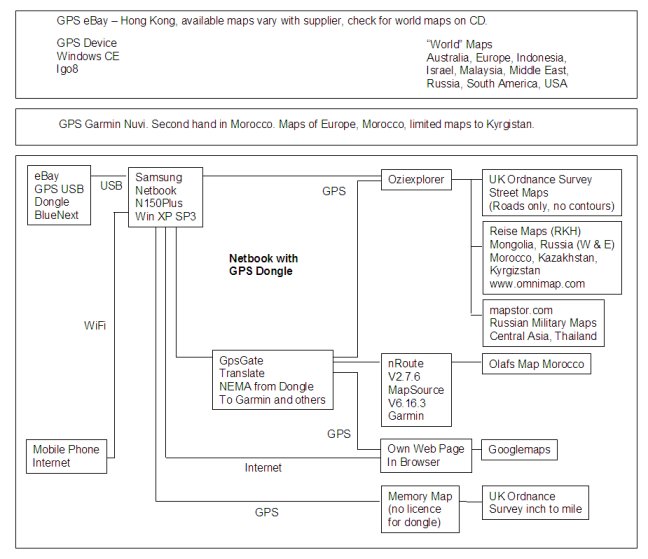 Mobile Phone
We purchased a travelsim card from the local Australia Post outlet before leaving Australia. This is an Estonian sim card with a callback method for making calls from anywhere (except Laos). It also has an 1800 number for people calling us from Aus (costs us A$0.35 / minute) and a web page for people to send us sms for free. Instructions are comprehensive. Help was available. Topup is a simple menu option once set up. Very useful. A minor blot, making it work with one of those automated answering things that says "press 1 for ..., press 2 for ....." took a little bit of fiddling.
Satellite Phone
We have a Thuraya Sat Phone. Purchased the phone of eBay from Aus seller. The sim card came from Abu Dhabi. Topup will be through a UK eBayer with an Abu Dhabi connection.
We avoided purchasing the phone through an Aus network (like Optus) as they bundle it with a normal mobile plan with a monthly fee.
We used the sat phone a couple of times to send sms saying "we are ok" when we were otherwise out of touch for a few days.
The satphone has built in gps, latlong can be included in an sms.
VOIP
The Nokia (below) is wi-fi enabled. Its how it acts as an wi-fi hub to connect netbooks through to mobile phone internet.
That also means it can work as a wi-fi phone. Connect through any available wi-fi network.
Just in case we have a VOIP account. Not Skype, which would work, but Pennytel. Simply because we used Pennytel while at home. Pennytel also provide a local Brisbane phone number for calls to us.
I'm writing this as we have free wi-fi at a camping ground in Hungary. Thus we have VOIP phone connection and will phone the relies.
Why? Cost of international mobile phone call is more than $0.50 / minute. Cost of VOIP to Aus is A$0.10 untimed, to NZ etc. about A$0.03 / minute.
Mobile Phone Internet

We have an ex Telstra unlocked Nokia E51 phone. It is an all band mobile phone - GSM and 3G on all frequencies necessary for Australasia / Asia / Europe. It is also wi-fi enabled so can be used as a wi-fi phone (sip / skype / etc.). The wi-fi can be used to create a wi-fi connection for our netbooks through the phone internet connection. An iPhone has similar functions.
We aimed to purchase a pre-paid sim card in each country. Not always easy to explain we needed internet with the pre-paid though it was included anyway.
The differences in the countries were simply in coverage, speed, initial purchase and setup, and topup.
We realised very early on that finding an office of the service provider was easier than trying to buy a sim card on the street or from a mobile phone shop. However, that wasn't always possible.
We tried to purchase sufficient internet in the first purchase but failed and had to learn how to top up. Most countries used a scratch card readily available at many outlets - scratch the card and feed the numbers into the phone. Russia has vending machines on the street that accept cash.
Generally inserting the sim also set up the phone for internet connection.
We didn't have the patience or inclination to check prices of plans. We simply accepted what was on offer. A strange phenomenon seems to be that the developed nations have more complex phone plans. There was no pattern to how well the networks performed for us. It really doesn't matter whether it doesn't work because of congestion in Mongolia, because something was blocked like in Ukraine or Spain, or simply because it's too difficult. The outcome of no email is the same.
There are different versions of the Nokia E51 for different countries. On one occasion we were told quite dogmatically that our phone wouldn't work with 3G. Computer says no. Despite me showing the little 3G symbol on the network connection on the phone.
When looking at the cost in each country don't forget that we spent 60 days in China but only 30 in Russia and fewer elsewhere.
We purchased Jokiuspot Premium software to allow the phone to work as a wi-fi hub for internet. Its been reliable. The Sip (Voip) set up was built into the phone.
If using a usb modem there is software available that helps them become unlocked!
Our blog is edited with Frontpage 2000 - simply the html editor, none of the fancy bits. Upload with FileZilla FTP.
Country
Provider
Total Cost
Comments
Malaysia
Digi
A$4.66
Purchased at a Digi outlet in a shopping center. A large presence everywhere. The Digi sales person spent 10 minutes setting the phone up. We used up the initial credit rather quickly so went back to the same place for a recharge. Connection was 3G everywhere we stopped.
Thailand
Totally failed here. We didn't know what the mobile networks were and they weren't advertising prominently. For two weeks we lived without.

Second time see below.

Cambodia
Mobitel
A$4.81
We bought a sim card and it worked.
Laos
Unitel
A$25.89
Failed at first attempt buying sim card on street (wasted A$7). Second attempt ok. Easy top up with scratchy cards. Mostly 3G. Generally good around most centers.
China
China Telecom
A$61.70
Needed Susanna's id to purchase a sim card. Messed up in the translation. Perhaps showing a USB modem would get a different result than showing the phone - we only managed Edge rather than 3G. Edge connection was more than adequate though.

We also got mixed up with plans. It was easier to buy a new sim card than top up the old one. Perhaps China is like Russia and needs roaming within the country, making it difficult to top up a phone from a different area.

Mongolia
Mobicom
A$84.78
Had to wait until Ulaan Baatar to find a Mobicom office where sufficient English was spoken. Confused by "units" per Mb and $/unit. Bought far too much. A mixture of 3G around major centers and Edge in most villages. Congested so often had to upload blog at 3am. Error prone so had to repeat upload until FileZilla had all files the right size. But it worked!
Russia
MTS
A$39.32
Purchased in mobile phone outlet in Gorno-Altai. 3G around Gorno then Edge for most of the country with occasional 3G around major cities. It improved as we moved west.

About 50% of the time ok for emails and limited research but too slow for blog upload. Even at 3am.

Caught a virus which ate through the allowance.

Top up through vending machines. Press the buttons and feed them cash. Needed help the first couple of times.

When we returned to Russia for a short 3 days about 21 months later the sim card had been "de-registered" and wouldn't connect. Not there long enough to bother.

Ukraine
MTS
A$55.75
Mistakenly thought that MTS Ukraine would operate like MTS Russia. Basically got lazy and paid the price. Internet really only worked in Ukraine for essential emails.

No 3G. Edge was slow. Epicycles (my) website unreachable except through a proxy server. No ftp access for blog upload. No email through epicycles so resorted to gmail. Confirmation from contact in Kiev that he also can't reach our website.

Top up through scratchies. Readily available but low value so needed multiple scratchies.

Apparently Ukraine Telecom has a good mobile internet deal but we never found an outlet.

Hungary
Free camping is illegal (and we found it difficult) so in camping grounds. Wi-fi reasonably available and free with the camping so far. Some allow Voip. Some allow Bittorrent. Some only allow sending email through their ISP email server but don't always know the server address. But it works!

Forgot passport when in vicinity of Vodafone outlet in Budapest. They are as silly about the service here as in Aus. Hung up on need for id and wouldn't even provide details of cost of pre-paid. Why on earth did they even for a second believe I would return to their store for such atrocious service.

Slovenia
Same as Hungary after first night!
Italy
Not in Italy long enough to worry.
France
Wi-fi provided at campsites. Expensive campsite had expensive limited wi-fi. Cheap municipal campsite had free, less limited, wi-fi but still no ftp or voip.
UK
Three
GBP15 topup / month
Pay As You Go "all you can eat internet" from Three. Unlimited.

Coverage seems good in the south but limited in national parks and the north of Scotland.. The fine print limits "tethering" (linking laptop to phone) but my joikuspot app on Nokia E51 setup seems to work. Just in case I also purchased a usb dongle.

The dongle is less sensitive than my phone. As in some other countries had to set the phone to use 3G only, none 3G towers don't seem to have Edge. The network is at some times in some places congested so slow or no connection.

UK mobile phone companies don't allow payment with non-UK credit/debit cards. They need same for contracts. Had to pay cash for the sim card at a Three outlet. Lots of fine print about security but no address or id required - bizarre. The Carphone Warehouse (big network of stores) can also provide sim cards.

Topup from supermarkets.

Topup is a two stage process. Buy and add the topup voucher. Then use the credit to purchase addon. Various combinations of call minutes (to UK numbers only), text, and internet (500Mb for GBP10 or unlimited for GBP15). International calls are deducted from remaining topup.

The call minutes have been useful for checking campsites are open and calling friends. Unfortunately they don't include calls to some of the landline numbers which consume real money without warning - so I learned to keep the balance low.

The dongle is Huawei. The software seemed to want to check for updates every few seconds which caused heart to flutter as I mistook the background network traffic for virus activity.

Sweden
Telia
Telia. Purchased phone sim card (cheap but limited expensive internet) and internet usb dongle (5Gb for month) at Telia shop.

The internet only sim card for the dongle worked in the Nokia E51 with Joikuspot.

Failed to ask how to refill the dongle (no phone number so needed internet login). Refilled the phone sim at ICA supermarket - easy instructions on docket.

Norway
Only pre-paid for foreigners. Off the planet expensive. A$80 for 750Mb in 3 months. First outlet in Tanabru didn't really know, thought it might be A$1.50 / Mb. Second in Alta had to look it up.

For our purposes and time frame (about 6 weeks) it was cheaper to use the expensive Swedish sim card at about $3 / 20Mb / day. We checked emails every few days and didn't upload the blog.

The Netcom (Norway subsidiary of Telia) network is a mixture of 3G and GSM (Edge). In parts it was congested. As frustrating as Mongolia.

Occasional free wi-fi but hard to find with the truck.

Morocco
Maroc Telecom
Sim card ? 3Gb for A$11 / month
Bought sim card and two recharges to give us 3 months. Had a lapse and didn't write it down.

Recollection is 3Gb for 100 Dirham (about A$11) for month.

Mostly good 3G coverage. Some out of the way places (desert and Atlas mountains) no coverage.

Spain
Movistar
A$25
Bought a sim card when truck broken in Malaga. EU20 for pre-paid sim card with credit. EU3 for unlimited internet for one week with throttling after 100Mb.

Couldn't detect the throttling. Own website only accessible through proxy. Spasmodic own email so reverted to gmail. 3G coverage reasonable with Edge in the mountains. Seemed congested and unpredictable.

Salesman said there was enough credit for 3 weeks. However, after one phone call to the garage and three indecipherable Spanish text messages from Movistar there was only EU0.91 left so no internet for the second week.

Recharge was only by Spanish credit card or recharge card from fuel station (minimum EU5). Not worth messing around for a day.

Greece
Wind
A$13
Sim card and 3 Gb for one month.

Patchy 3G near large towns, some Edge, some simple connection. Connection speed very variable even with 3G. Lots of timeouts and waiting. Location that worked one day didn't work next. Unpredictable.

Anything other than 3G wouldn't let Outlook download emails - it timed out when trying to delete emails on server.

Suggest try a different network.

Turkey
Vodafone & Turkcell
A$45
Sim card and 4Gb for one month.

However. Turkish government requires IMEI of phone to be registered. Vodafone sim card works for 15 days before being cut off. Turkcell simply doesn't work with unregistered phone.

While its supposedly possible to register a foreign phone we also heard we would have to be Turkish residents. We didn't bother.

We were lucky with wifi occasionally.

Georgia
Not here long enough to make it worthwhile.

Noticed early on that Travelsim didn't find any 3G.

Kazakhstan
KCell
A$28
Found a KCell shop in Atyrau. Passport and money. About 10 minutes to do all the recording and set it up. Another 5 minutes wait for it all to work. 2000 KZT for the sim, and another 2000 KZT for the 4Gb internet for 30 days.

Same shop offered "Activa" at 500 KZT for the sim card.

I chose KCell because in the limited time between border and Atyrau there had always been a signal, 3G in the towns and Edge along road. Edge is working well enough to see googlemaps. I hadn't heard of or seen a connection for Activa.

Kyrgizstan
Beeline
A$11
Found a Beeline shop in center of Talas. No id required. Sim card about 10 cents. 2Gb for 30 days. About 10 minutes to set it up and working.

Coverage focused on valleys and villages. 3G in large towns, Edge elsewhere. Slow but works.

Tibet
China Mobile
A$35
Registered at China Mobile office in Kashgar with own name, required passport.

About $35 for SIM and a couple of Gb for month.

Good reception most places. Pleasantly surprised.

Nepal
NCell
$10 Sim card plus 1Gb for month
About $8 for 1Gb, $22 for 5Gb.

3G started while in Pokhara. No speed increase, congestion in land lines. Sufficient for Skype.

India
Vodafone
SIM $3.80 Unlimited Internet A3.80 / month
Vodafone office in Agra, needed passport and photo. Sim provided, activation within about 16 hours. Phoned 117 for 'televerification'. A government required step to check name and address. Plan activated a couple of hours later.

In retrospect a painful process that worked.

So far all Edge. Some congestion around 5pm through evening. Good for ABC Radio feed and Skype.

India has roaming. Our unlimited plan seemed to get past that and worked in Rajasthan and Gujurat as well as Uttar and Madhya Pradesh.

However, sim card wouldn't register in more sensitive areas of Assam, Nagaland and Manapur.

Myanmar
Nonel
Phone only sim card supplied by tour leader for local contact.

Free wi-fi at hotel car park camps.

Thailand
True
SIM $1.50 2Gb internet about $18.
Easy application. No passport or id. About 5 minutes to have it work. A shop in a Tesco Lotus shopping centre.

Later discovered it seems that sites overseas have additional fees - webpage is diverted to tell us, but doesn't say how much.
Radio and TV
We don't watch a lot of tv. We have a Kogan 12v led tv purchased in Australia.
Digital or analogue tv worked in most countries until Europe. Purchased a digital set top box from Currys in UK. Supply of 12v set top boxes is difficult tp find as most tvs now have digital tuners built in. Fortunately we had a 12v to 5v power supply already and found a suitable stb after much messing around. The UK stb works well in most of Europe.
We have an all band radio made by Degen purchased off eBay. Heavy on batteries (rechargeable work). In UK bought a LW/MW/FM battery radio. The FM is better (Degen switches between stereo and mono with marginal signal plus has a crackle). The LW gave us BBC Radio 4 through most of France and northern Spain. Just nice to have an English language station. If only they had something other than cricket overnight.